To Jakobsen Beach from Kigoma
By Taxi:
Most taxi drivers know Jakobsen Beach. If they don't, ask them to drive to Katonga village, and there they can ask people for Mwamahunga or Jakobsen Beach. From Railway Station to our place takes about 10 minutes. By November 2015 you may pay 10.000 by taxi, 5.000 by bhajaj (tuktuk) and 2.000 by pikipiki (motorbike). From the airport and from the national bus stand, it may cost you up to the double.
By bus (daladala):
From Kigoma town, take the dala-dala towards Katonga (Nazareth-Katonga route). Some 800 metres before Katonga, there is a signposted turn-off to the right. Get off the bus there. The turn-off will take you to the beach. It is a 15-20 minutes' walk.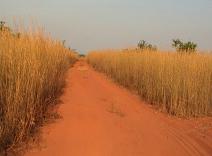 Driving:
With your back to the railway station, turn right. Follow the tarmac about 4 km. You will pass the Tanesco power station on your left, the prison on your right, and then also pass the turnoff to Kigoma Hilltop Hotel on your right. About 4 km from the railway station, you will see a turnoff to the right signposted 'Jakobsen Beach'. From there, you have almost 2km of bumpy bushroad. Altogether it is a 10 minutes' drive from town.
From Burundi
By car:
Cross the border at Manyovu*. The Manyovu-Kigoma drive takes an hour and a half. The Bujumbura-Kigoma drive takes 5 hours. On the Burundi side, the last 25 km are gravel road, being upgraded. On the Tanzanian side, the road was redone in 2010, with tarmac all the way to Kigoma.
*Immigration info: You'll get to the Burundi office BEFORE you reach the actual border. When estimating time, bear in mind that the office on the Tanzanian side is one hour ahead of Burundi time.
By bus (dala dalla):
There is a daily bus service from Bujumbura to Kigoma that takes 5-6 hours.  This may involve changing buses at the border.
From Tanzania
By bus:
There are regular buses to Kigoma from Mwanza, Arusha, Tabora, Mpanda and  Dar es salaam.
By plane:
There are scheduled flights to Mwanza, Tabora and Dar Es Salaam. Schedules change, so check with the airline companies: Precision Air and Air Tanzania  to Dar via Tabora every day except Tuesday and Thursday, and Auric Air to Mwanza. (written November 2015)
By train:
The Dar-Kigoma train takes 40 to 48 hours, and passes through Dodoma and Tabora. The schedule may vary, but should be twice a week, arriving and departing from Kigoma every Thursday and Sunday. For long distances, try to get a seat on 1st or 2nd class, as 3rd class is rather uncomfortable. A new express train has been introduced, better cabins, faster travel, but irregular schedule, something like once every 3 weeks.
By car:
Recently, driving times have been 12 hours from Mwanza, and 8 hours from Katavi National Park. You now have two routes between Kigoma and Mwanza. Nyakanazi Geita is more scenic, shorter, but rougher and probably takes longer time than Uvinza Tabora Nzega, mostly tarmac.
From Zambia
The famous MV Liemba still runs up and down the lake, from Mpulungu, Zambia, to Kigoma. The Mpulungu-Kigoma trip takes two days. It should leave from Kigoma every second Wednesday, call on Mpulungu on Friday, and arrive back in Kigoma on Sunday. However the schedule may vary. It calls at Kasanga port and several villages on the Tanzanian side. A journey to recommend!!!
From DR Congo
Some guests have caught a ride with one of the cargo boats on their Kalemie-Kigoma route. These are both ships and smaller wooden boats with outboard engines. We hear that the schedules are less reliable with the larger vessels.