To See and Do around Kigoma
Ujiji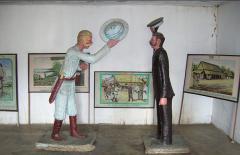 Ujiji is where Stanley found Livingstone. While the museum is rather small and unsophisticated, we find it impressive as testimony to the vision, dedication and initiative of a local school teacher with limited means.
Ujiji is also the former hub of pre-colonial trade routes. South of the museum you will see an avenue lined with mango trees. The story goes that these trees can be traced all the way to Bagamoyo.
Katavi National Park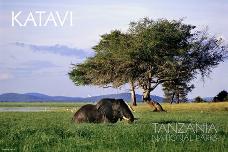 Tanzania's most remote and 'untouched' park is also the third largest. The 8-hour drive—yes, one of those long, rough and bumpy ones- is beautiful in a rugged, remote sort of way. The park itself is varied—rocky terrain, forests, savannah and lush flood plains. You can find the park's website here.  To see how much it costs to enter the park, click here. 
Mahale Mountains National Park
For serious chimpanzee tracking, and dream-like luxury lodges. This is a park without roads, only walking trails. We haven't been, but you can get there by a charter flight or a 12-hour boat ride from Kigoma. See the park's website here. To see how much it costs to enter the park, click here. 
Gombe Stream National Park
You may have heard of the Gombe chimpanzees through the research and films of Jane Goodall . It takes between 1 and 4 hours to get there from Kigoma, depending on the type of boat you use. Click here for Gombe National Park information. We can arrange for a motorized boat to come and pick you up from the beach and take you back. The total cost of the return trip, 210 USD is shared by all the passengers. Most people make this a one-day trip. Ask our staff on arrival, or notify us in advance by e-mail. To see how much it costs to enter the park, click here. 
Kigoma town
The most noticeable buildings are those built at the turn of the past century, in German colonial style. These include the railway station, the Regional Commissioner's residence and the District Commissioner's Office. Tourists who want to see a Tanzanian market, have enjoyed visiting the Kigoma market. It is colorful and bustling, but not overwhelming