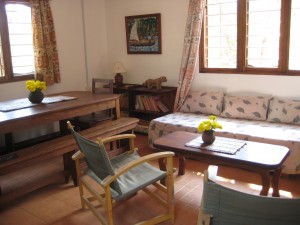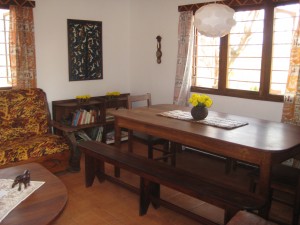 This is a good option if you enjoy the company of other travellers.
The guesthouse is situated at the top of the wooded slope, out of sight from the beach. It consists of two kitchens, two bathrooms, four bedrooms and two living rooms. Beds are provided for up to 8 adults. In addition, one living room can be converted into a bedroom with up to four beds. Each bathroom contains a toilet, a sink and a shower.  The kitchens are equipped for complete self-service.
All rooms are equipped with fans and lights, and the kitchens with refrigerators and gas cookers.
A housekeeper may be available for light housekeeping, except on Sundays.
Many guests like to spend their evenings on the observation deck, enjoying the view of the lake. On a clear day, you can see Congo; on a clear night, a myriad of stars and the 'city on the lake' (lights from the dagaa or kapenta fishing boats). The deck is equipped with a picnic table and a barbecue site.